For over 20 years, Sumo Tackle® has been designed for fishermen by fishermen. Based on the Pacific coast in Oceanside, California, Sumo Tackle® products have been engineered to work consistently in the most demanding of saltwater conditions. Using decades of experience targeting big game fish, Sumo Tackle offers a wide array of high quality saltwater lures and fishing tackle, including trollers, iron jigs, jigging spoons, belts, hooks and more.
Sumo Tackle® trollers are widely considered among the most dependable and effective on the market, and are consistent best sellers at the finest tackle stores. Captains whose livelihood and reputation depend on their selection of tackle and gear choose Sumo Tackle® trollers to put fish on the decks time and time again. Available in the Jethead or Buddha Head styles, our trollers feature long lasting chrome plated brass finish heads and carefully designed skirt color patterns. The dual port jethead is designed to swim and not spin. It does not matter what the conditions are from Albacore, Yellowfin, Bluefin, Yellowtail, Dorado, Wahoo, to Marlin the dual port Sumo Tackle® Jethead has been the most consistent on the market. Sumo Tackle® Buddha trollers feature reflective eyes and vinyl skirts.
Sumo Tackle® Iron Jigs are designed to be used for yo-yo style fishing, with some models available for surface fishing. The C2 model is great for shallow water rockfish. The JR and 105 models are excellent for all species of gamefish. The heavier #6 and 7X models are excellent for deep water jigging and also for giant yellowfin tuna. The 7X-L is a lighter version of the 7X designed specifically for surface fishing. With perfect balance and an erratic action, they entice all big game species.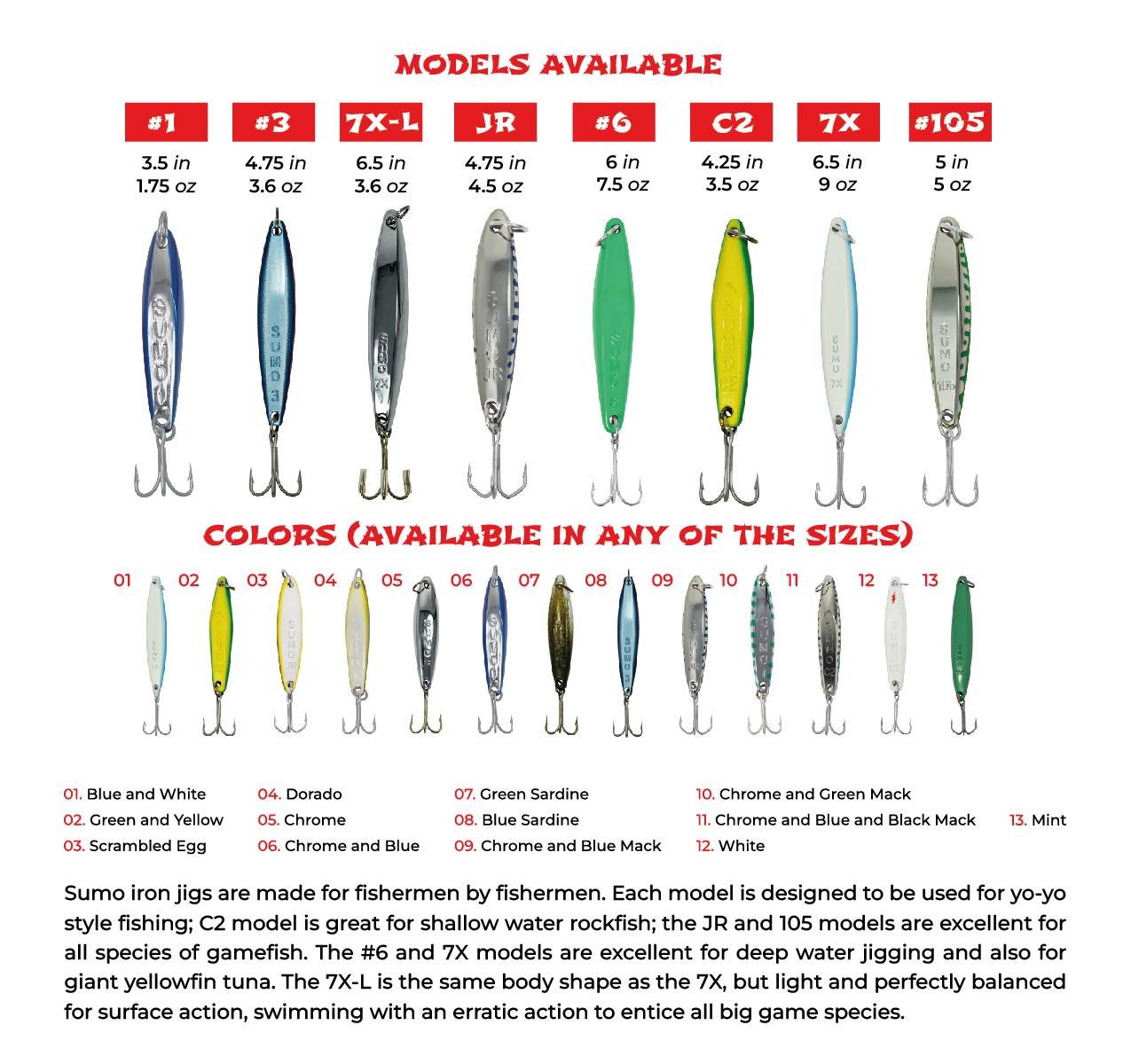 In addition to yo-yo and surface iron style jigs, Sumo Tackle® is also known for its selection of Chrome Banana Jigs. A long time favorite, the Chrome Banana Jig is great for all game fish. Its high polished chrome finish plus the fluttering action drives fish crazy.
Long before countless other jigging spoons became popular, the Dragon Fly Jig from Sumo Tackle® helped pioneer the use of life-like jigging spoons to target big game fish on kelp paddies, as well as using it on the slide, or as a yo-yo style jig. Featuring higher quality welded rings and realistic and reflective body patterns, the Dragon Fly Jig is a consistent producer.
Sumo Tackle® is also known for its accessories and hooks. We offer a selection of high quality fighting belts covering the spectrum from short to long range trips. Our rail Universal Rod Holder is an angler favorite for keeping rods secure in hectic, busy conditions. We were one of the first to offer high quality welded Ringed hooks, offering ringed versions of angler favorites not available from the hook manufacturer directly.
It is our privilege to carry on the tradition of excellence in manufacturing high quality lures and fishing tackle built over the past two decades. We continue to design new, innovative products out of our passion for building the most robust, strongest gear on the market. Designed and made for fishermen by fishermen, we are honored to serve you, the most demanding big game anglers.